1985 Lost in Space B-9 Robot Japanese Wind-Up
$125.00
Year: 1985
Manufacturer: Masudaya Japan
Condition: Mint condition robot in very good condition box
Second edition vintage collectable
For the 20th anniversary of Lost in Space, Japanese toy maker Masudaya created this 1985 edition of the famous robot from the series. In the USA he's known as "B-9" or just "Robot", but in Japan he's known as YM-3. He measures 4 1/2" tall from his clear bubble dome down to his treads, painted in the original silver, red and black finish. Wind him up and he rolls along.
The box measures 2 1/4" x 2 5/8" x 4 3/4" tall and both the inside and outside box are printed with artwork. The box has a wrinkled lower edge on one side, but it's in great shape for giving or collecting. The box has a color guide for painting the buttons and sensors to complete the look, although this one has the original finish and has not been painted. Also includes an advertising insert with other Masudaya toys, written in Japanese. Very cool.
Photos are of actual item. Climate controlled storage and minimally handled. Sold as is. Only one available.
1 in stock
Here's some other cool stuff you might like...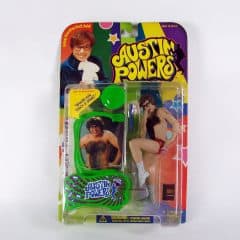 1999 Austin "Danger" Powers Ultra-Cool Talking Action Figure v1: "Horny" in Package
Year: 1999
Manufacturer: McFarlane Toys
Condition: Mint condition in mint package
First edition vintage collectable
Yeah baby! It's the one and only Austin Powers, nearly naked with a chest full of curly hair. Wearing only Union Jack underwear, Austin is totally shagadelic! This toy made the news in 1999 when some found the text on the package and the randy phrases a little too "adult" for children. There were multiple versions. This one has Austin saying "Do I make you horny baby, do I?" on the front, and includes a sexy dictionary, along with a mirror, a martini glass and olive on a stirrer. The martini glass and olive stirrer were very small parts, and removed from later versions because of the choking hazard. A second version was made with different phrasing (see other model by clicking here).
Austin is about 6" tall, and in his original packaging, which is in mint condtion. Mike Meyers provides the voice, which is in the base. The tab has never been pulled on either version, so it should speak when removed, but it's not guaranteed. (Why would you ever open it anyway baby?)
Photos are of of actual item. Climate controlled storage and minimally handled. Sold as is. Only one available.
$

69.00
Add to cart