1985 Lost in Space B-9 Robot Japanese Wind-Up
$125.00
Year: 1985
Manufacturer: Masudaya Japan
Condition: Mint condition robot in very good condition box
Second edition vintage collectable
For the 20th anniversary of Lost in Space, Japanese toy maker Masudaya created this 1985 edition of the famous robot from the series. In the USA he's known as "B-9" or just "Robot", but in Japan he's known as YM-3. He measures 4 1/2" tall from his clear bubble dome down to his treads, painted in the original silver, red and black finish. Wind him up and he rolls along.
The box measures 2 1/4" x 2 5/8" x 4 3/4" tall and both the inside and outside box are printed with artwork. The box has a wrinkled lower edge on one side, but it's in great shape for giving or collecting. The box has a color guide for painting the buttons and sensors to complete the look, although this one has the original finish and has not been painted. Also includes an advertising insert with other Masudaya toys, written in Japanese. Very cool.
Photos are of actual item. Climate controlled storage and minimally handled. Sold as is. Only one available.
1 in stock
Here's some other cool stuff you might like...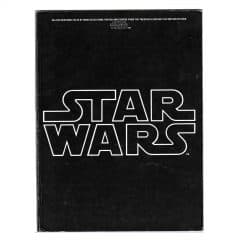 1977 STAR WARS Musical Score Book
Year: 1977
Manufacturer: 20th Century Fox
Condition: Good condition
1st edition, 2nd printing vintage collectable

AUTHENTIC ORIGINAL BOOK FROM 1977
First edition vintage collectable

The original vintage Musical Score Book from 1977 – in very good condition. Like many STAR WARS items, the cover is black, and shows some light wear along the spine. Printed on glossy heavyweight stock, this is a deluxe suouvenir folio of music selections, photos and stories from the STAR WARS movie.
Contains the musical scores from 4 STAR WARS pieces composed by John Williams. 1) The main title piano solo; 2) Main Title Sketch Score; 3) Princess Leia's Theme Piano Solo; and 4) Cantina Band Sketch Score. Plus lots of color and black and white photos from the STAR WARS movie. 9″ x 12″, 64 pages. Copyrighted 1977 20th Century Fox Film Corporation, 2nd printing.
$

100.00
Add to cart