1984 Tonka Stony Brothers Load Handler Dump Truck
$149.00
Year: 1984
Manufacturer: Tonka Item 2203
Condition: Excellent condition
1st edition vintage collectable
This is a rare find! There are other Tonka Stony Brothers Trucks for sale, but most are rusty, dented, and well worn. This is an unused Tonka truck in brand new condition! And it's a genuine Tonka, produced before the company was bought out by Hasbro, so it's built with classic Tonka features.  
The dump truck is based on a Chevrolet design. It's a big 15 1/2" long, 7 1/2" tall and it's in almost perfect condition with all original parts. There's NO RUST, no dents, no scratches or scuffs. The body and tilting bed are made of heavy gauge stamped metal, with molded front bumper and flair trim. It's complete including the tailgate with stamped Tonka logo. The front bumper features a chromed Chevy logo. The windows are clean and clear. Even the undercarriage is in like new condition. All original markings on the truck are in excellent shape, including decals. The truck features soft vinyl 2 piece tires and has a working steel dump box with opening and closing tailgate.
Note on origin: This is a genuine vintage toy from the original Tonka plant in Mound Minnesota. This specific truck was manufactured, purchased, owned and kept in Minnesota for it's entire life.
Photos are of actual item. Climate controlled storage and minimally handled. Sold as is. Only one available.
1 in stock
Here's some other cool stuff you might like...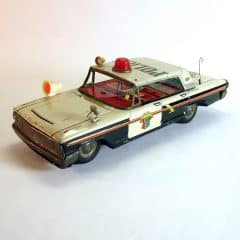 1960's Japanese Ford Highway Patrol Litho Tin Car
Year: Early 1960's
Manufacturer: Taiyo World Toy Company
Condition: Fair
First edition vintage collectable
This is a rare vintage battery powered early 1960's Ford Highway Patrol police tin toy car, made by the Taiyo World Toy Company of Japan. The Taiyo logo is litho'd inside the back window. There are many variations and this one originally had a driving mechanism underneath but it is missing and the battery compartment has partially rusted. The bumpers show a little rust but the majority of the body paint is still intact. A lot of style and class in an oversized vintage tin toy. 12 1/2" long overall. No box.
Photos are of of actual item. Climate controlled storage. Sold as is. Only one available.
$

53.00
Add to cart