1984 Machine Robo Series – Set of 5
$95.00
Year: 1984 – Made in Taiwan
Manufacturer: Machine Robo Series
Condition: Good condition
First edition vintage collectable – bootlegs
Dive Dive Blue Submarine C11
Spoons Orange Forklift C12
Harley Robo White Motorcycle C13
Jeeper Creeper Army Jeep C14
Flip Top Helicopter C15
Transformers are the popular vehicle-into-robot characters today, but GoBots were the original, introduced a year before the first Transformers came out. Tonka bought the line from Bandai, originally Popy of Japan. These are five classic first edition vintage collectables:
Dive Dive Blue Submarine #C11
Spoons Orange Forklift #C12
Harley Robo White Motorcycle #C13
Jeeper Creeper Army Jeep #C14
Flip Top Helicopter #C15
Each GoBot is like a puzzle and takes some figuring out to make them work. These are fairly intricate and clever designs, making them very collectable. This set is unnamed, usually referred to as "Robo Series" GoBots.
This set has been used and played with minimally. The Flip Top Helicopter is missing the small rotor and the Flip Top Forklift is missing the console. But otherwise the set is in great shape with original paint and sticker markings.
Photos are of of actual item. Climate controlled storage and minimally handled. Sold as is. Only one available.
1 in stock
Here's some other cool stuff you might like...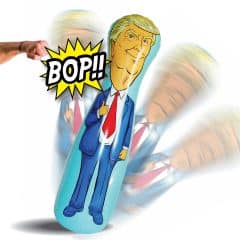 2017 Donald Trump Presidential Bop Bag and Bonus Putin Whoopie Cushion
Year: 2017
Manufacturer: 1st Dog
Condition: Mint condition
First edition vintage collectable
No longer available for sale, this is a collectable part of American history. There's never been a more controversial figure than the current President, Donald Trump. His motto is when someone punches, he punches back twice as hard. With the Donald Trump Presidential Bop Bag, now you can punch back again and again. This is a 48″ tall professionally drawn caricature of Trump drawn by artist Sheila Zwettler, in full color, both front and back.
The bop bag is a dual chamber design. Fill the upper chamber with air, and fill the lower portion with sand or water to weigh it down. Give it a punch and it pops right back up for more! When he goes low, you go high! Trump-based humor on the packaging makes this a hysterical historical collectable.
INCLUDES FREE BONUS: Pootin' Putin Whoopie Cushion. 6″ diameter limited editon collectable. Sit on his face and he farts (in Russian).
Photos are of of actual item. Climate controlled storage and minimally handled. Sold as is. Limited number available.
$

91.00
Add to cart