1983 Marilyn Monroe Figure in Box
$100.00
Year: 1983
Manufacturer: World Doll
Condition: Mint condition figure in very good condition box
First edition vintage collectable
We'll let this oversized 18" tall meticulously sculpted figure of Marilyn Monroe speak for itself. Created for the 20th anniversary of Monroe's untimely passing, this amazing likeness was lovingly created by a team of artists at a time when sculpting dolls had to be done by eye and by hand- no computers or image scanning was used! This is classic Marilyn, adorned in her red evening gown and feather boa. She's wearing a diamond necklace, knee-hi nylons, and matching red pumps. And because you want to know, is she wearing undies? Of course not silly, she keeps them in the icebox!
The box measures 23 3/4" x 12 3/4" x 3 3/4" and is is really good shape. The window is clear and unmarred. Also includes the original registration card, certificate of authenticity and hang tag in excellent shape.
Photos are of actual item. Climate controlled storage and minimally handled. Sold as is. Only one available.
1 in stock
Here's some other cool stuff you might like...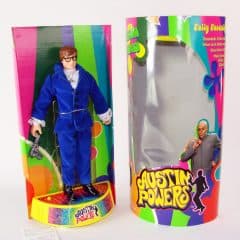 1998 Austin Powers Poseable Talking Figure in Box
Year: 1995
Manufacturer: Trendmasters
Condition: Mint condition in mint package
First edition vintage collectable
Women want him… men want to be him… he's the International Man of Mystery! And now you can have the one and only Austin Powers Talking Action Figure! This figure was released to coincide with the first Austin Powers movie. Austin is looking totally shagadelic in his blue velvet suit, ruffle shirt, horn-rim glasses, male symbol necklace, pistol, and Union Jack underwear! He even has a hairy chest, and oh, those teeth! This is an amazingly detailed figure and fully poseable arms and legs. 9" tall figure standing on a 1" base with a speaker.
Mike Meyers provides the original voice for 4 of his favorite sayings: "Very shagadelic!", "Smashing baby!", "Oh, behave!", "Yeah, baby!" and can be played without removing Austin from his groovy pad. Very rare and very collectable.
Austin's "package" is impressive as well, a full 12 1/2″ tall x 6″ x 3″ and covered in a psychedelic explosion of colors and photos of Austin, Dr. Evil, and one of the Fembots. Mint condition. Photos are of of actual item. Climate controlled storage and minimally handled. Sold as is. Only one available. Yeah baby!
$

96.00
Add to cart