1983 Marilyn Monroe Figure in Box
$100.00
Year: 1983
Manufacturer: World Doll
Condition: Mint condition figure in very good condition box
First edition vintage collectable
We'll let this oversized 18" tall meticulously sculpted figure of Marilyn Monroe speak for itself. Created for the 20th anniversary of Monroe's untimely passing, this amazing likeness was lovingly created by a team of artists at a time when sculpting dolls had to be done by eye and by hand- no computers or image scanning was used! This is classic Marilyn, adorned in her red evening gown and feather boa. She's wearing a diamond necklace, knee-hi nylons, and matching red pumps. And because you want to know, is she wearing undies? Of course not silly, she keeps them in the icebox!
The box measures 23 3/4" x 12 3/4" x 3 3/4" and is is really good shape. The window is clear and unmarred. Also includes the original registration card, certificate of authenticity and hang tag in excellent shape.
Photos are of actual item. Climate controlled storage and minimally handled. Sold as is. Only one available.
1 in stock
Here's some other cool stuff you might like...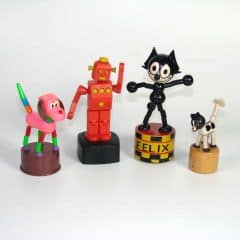 1980's Felix the Cat, Robot, Dog and Cat Push Button Toy Set of 4
Year: 1980's
Manufacturer: Various manufacturers
Condition: Good to very good condition
First edition vintage collectables
Push button toys were very popular at one time and are sought after as collectables from a simpler day gone by. Push the button under the base and make the character sway, dance and fall down, then pop right back up to play some more!. This set of four make a fun collection for the beginner or someone who wants to add to their collection. 
4 1/2" tall Felix the Cat – Made entirely of wood, this is made by FTCP Inc. and has a vintage Felix look.
4 1/4" tall Red Robot – Plastic, made by MT of England
3 1/2" tall Dog – Plastic, made by MT
3" tall Cat – Made entirely of wood, unknown manufacturer
Photos are of of actual items. Climate controlled storage and minimally handled. Sold as is. Only one set available.
$

49.00
Add to cart