1982 E.T. the Extra-Terrestrial Metal Lunch Box with Thermos
$120.00
Year: 1982
Manufacturer: Aladdin
Condition: Fair condition
First edition vintage collectable
E.T. was a groundbreaking film, and this metal lunch box complete with Thermos features major scenes from the movie, including young stars Henry Thomas, Drew Barrymore, and of course E.T., the alien left behind on Earth in the early 80's.
The lunch box is well used and even has the name of the original owner in his own handwriting on the top outside edge AND under the lid too. Jason did NOT want to lose this lunch box. Lots of character!
The lunch box is made of pressed and rolled metal, 7″ x 8″ x 3 3/4″ deep with a yellow plastic handle and clasp. The front and back of the box are embossed, too. The inside is white. There are dents and scratches from daily wear. The thermos is 6 3/4″ tall x 3 1/2″ in diameter and has more graphic drawings of the movie.
Photos are of actual item. Climate controlled storage and minimally handled. Sold as is. Only one available.
1 in stock
Here's some other cool stuff you might like...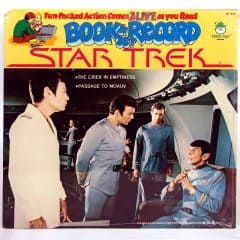 1977 Six Million Dollar Man, 1977, Kojak, and 1979 Star Trek Book and Vinyl Record Set of 3 Shrink Wrapped
Year: 1977, 1979
Manufacturer: Peter Pan Records
Condition: Good to very good condition
First edition vintage collectables
Three throwback LP records featuring some of the biggest entertainment of the 1970's: The Six Million Dollar Man, Kojak and Star Trek. Sit back, put on a record and follow along word for word with the full color illustrated books accompanying each album. The original shrink wrap is still intact and has kept the artwork in excellent condition. One corner is notched on each album, likely signifying they were promotional copies not to be resold. The albums have never been opened or played.
Photos are of of actual items. Climate controlled storage and minimally handled. Sold as is. Only one set available.
$

49.00
Add to cart