1978 McDonalds Garfield Mugs Set of 3
$26.00
Year: 1978
Manufacturer: McDonalds
Condition: Good condition
First edition vintage collectables
This is a set of 3 glass mugs, all featuring the same artwork of Garfield and Odie, adorned with words of wisdom from Garfield: "I'm easy to get along with when things go my way". The mugs are 3 1/2″ tall x 3″ di. and hold 8 oz. of your favorite beverage. The mugs have been used, but are in good clean condition with no scratches or chips. Photos are of of actual item. Climate controlled storage and minimally handled. This item has no packaging. Sold as is in a set of 3 mugs.
1 in stock
Here's some other cool stuff you might like...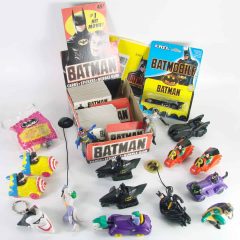 Vintage Batman Grab Bag Starter Set
Year: 1989 to 1995
Manufacturer: Multiple manufacturers
Condition: Varying from good to very good
Vintage collectables
It's everything Batman! This is a mixed set of Batman-themed toys from various kids meal programs and retail products. The set includes figurines, vehicles, and more! The creative influence of director Tim Burton is apparent in the McDonalds kids meal vehicles in great condition. Plus, the set includes a retail Ertl metal Batmobile in it's original sealed package.
.
Also included are 2 complete sets (1-132) of Series One Batman the Movie cards featuring Michael Keaton, Jack Nicholson and the whole cast with scenes from the movie, lots of facts and storylines. Plus 2 complete sets (1-32) of stickers, minus one card. Cards and stickers are open, but like new with clean corners, no wrinkles tears or scratches, all in very good to near mint condition. They've never been played with. The set includes 3 original outer wax wrappers. That's 18 toys plus two complete sets of Batman cards and stickers in their original retail box. Makes a great gift!
Photos are of of actual item. Climate controlled storage and minimally handled. Sold as is. Only one set available.
$

58.00
Add to cart