1977 Six Million Dollar Man, 1977, Kojak, and 1979 Star Trek Book and Vinyl Record Set of 3 Shrink Wrapped
$49.00
Year: 1977, 1979
Manufacturer: Peter Pan Records
Condition: Good to very good condition
First edition vintage collectables
Three throwback LP records featuring some of the biggest entertainment of the 1970's: The Six Million Dollar Man, Kojak and Star Trek. Sit back, put on a record and follow along word for word with the full color illustrated books accompanying each album. The original shrink wrap is still intact and has kept the artwork in excellent condition. One corner is notched on each album, likely signifying they were promotional copies not to be resold. The albums have never been opened or played.
Photos are of of actual items. Climate controlled storage and minimally handled. Sold as is. Only one set available.
1 in stock
Here's some other cool stuff you might like...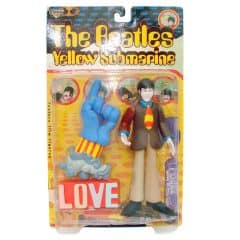 1999 Beatles Paul McCartney Yellow Submarine Figures in Package
Year: 1999
Manufacturer: McFarlane Toys
Condition: Mint condition figures
First edition vintage collectable
From the golden age of figurines comes this rare Beatles Paul McCartney 7.5" tall molded figure, colorfully dressed in his nehru jacket, groovy tie and bell bottoms right out of the Yellow Submarine animated movie, released in 1969. 
The set includes a second figure, a Blue Meanie-controlled "dreadful flying glove" which John Lennon discovers can be defeated when without the "G", glove becomes LOVE. The finger is attached by a swivel to the LOVE base. Very far out!
The package measures 8.25" x 13.5" x 2.25" and is covered with bright vintage Beatles graphics. The back of the package features the rest of the Fab 4 figure collection. The package is a sealed blister pack and has never been opened. Some minor shelf wear on the corners.
Photos are of actual item. Climate controlled storage and minimally handled. Sold as is. Only one available. Also available: John Lennon figure.
$

65.00
Add to cart