1977 Mr. Machine Robot
$89.00
Year: 1977
Manufacturer: Ideal
Condition: Very good condition
First edition vintage collectable
Ideal Toy Company manufactured the original Mr. Machine as a kit which could be assembled by kids. Unique for it's time, Mr. Machine was made of injection moulded plastic, a new technique which allowed manufacturers to produce parts quickly and less expensively, including a clear body.
In 1977, Ideal re-issued Mr. Machine as an assembled toy. This is the first generation assembled version, with parts riveted together. It has a copyright date with the patent number stamped into the plastic. Mr. Machine stands just under 18″ tall and is in great shape. His wind-up key works and he rolls forward with a squeaking and whirring noise as his internal gears spin around. Cog-a-riffic! Mr. Machine is a clever, well designed toy that looks great sitting on the shelf or rolling across the floor! It's a one of a kind toy and there aren't many working ones left out there.
Photos are of actual item. Climate controlled storage and minimally handled. Sold as is. Only one available.
1 in stock
Here's some other cool stuff you might like...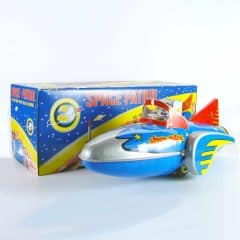 1970's Space Patrol Rocket Ship with Robot Pilot in box
Year:1970's
Manufacturer: Metalmania
Condition: Very good condition
First edition vintage collectable
This is a bright, colorful, very cool classic 50's style spaceship piloted by a classic blockhead style robot. There is no copyright date on the item or box, but it was purchased in 1981, so it's likely from the 1970's or earlier. The entire toy is made of lithographed tin, except for a plastic steering wheel and windshield. It's a "friction" style toy with an internal wind-up motor. Give it a push and it makes a clicking sound as it rolls. The paint job is in very good condition, with some minor wear marks on the nose and one side fin. The windshield is still crystal clear.
The outer box is classic retro artwork, measures 13 1/2″ x 4 1/2″ x 5″. The box is in great shape, with very minor wear shelf wear mostly on the corners. There are no tears or repairs. Photos are of of actual item. Climate controlled storage and minimally handled. Sold as is. Only 1 available.
$

110.00
Add to cart