1977 Close Encounters of the Third Kinds 260 pc. Picture Puzzle
$68.00
Year: 1977
Manufacturer: Milton Bradley
Condition: Fair to good
First edition vintage collectables
WE ARE NOT ALONE. This puzzle features the classic image from the 1977 Steven Spielberg movie, with Devil's Tower and the mothership. The puzzle is complete with all 260 pc. and is in very good shape. The finished puzzle measures 13 7/8″ x 19 7/8″ in size.
The box measures 12 1/2″ x 8 3/4″ x 1 1/2″ and has wear from regular use. Some corners have been taped and there is tape on the box.
Photos are of actual items. Climate controlled storage. Sold as is. Only one available.
1 in stock
Here's some other cool stuff you might like...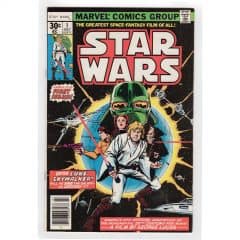 1977 STAR WARS Marvel Comics #1-10
Year: 1977 and 1978
Manufacturer: Marvel
Condition: Very good to near mint condition
1st edition vintage collectables

AUTHENTIC ORIGINAL SERIES PUBLISHED IN 1977 AND 1978
First edition vintage collectables – Not reproductions

In 1977, the very first Star Wars comics were released. The ones you see here were purchased from the local drug store in my tiny southeastern Minnesota hometown. We knew which day comics were delivered, so we were able to get the very first issues. I collected the first 10 issues. I read them once, and they went into collector sleeves, into my closet and into the past. I opened them up recently and scanned the covers. You can see they're in near mint condition. No tears, scratches or other damage.  The corners are all clean and unworn and have been stored in plastic pouches. Fantastic shape for comics printed 40 years ago.
#1-6 illustrate the Star Wars original story faithfully from beginning to end. These are the original issues as they were printed in 1977 by Marvel- not reprints. I only have one of each and they're gone.
BONUS: Buy issues 1-6, and receive issues #7-10 FREE! Issues #7-10 do not follow the storyline of the sequals / prequels, but are an interesting spin-off of the STAR WARS franchise.
$

3,500.00
Add to cart