1975 JAWS Theater Release Poster
$1,700.00
Year: 1975
Manufacturer: Universal Pictures
Condition: Good condition
First Edition Vintage collectable
This is an original poster which hung in a small movie theater in Minnesota during the summer of 1975, when everyone was terrified to go swimming for fear of being eaten alive by a great white shark. It's the movie poster of JAWS, measuring a whopping 27″ x 41″, almost 3 1/2 feet tall!
The poster has been in storage since 1975, and when unfolded it had a few small tears where the folds meet but can be easily mounted flat. Mounting will also increase it's value. There are tiny pinholes in the 4 corners from hanging on display. But the graphics are clear, strong, and not faded or discolored. It's in good condition considering it's been hidden away for 35 years.
Photos are of actual item. Climate controlled storage and minimally handled. Sold as is. Only one available.
1 in stock
Here's some other cool stuff you might like...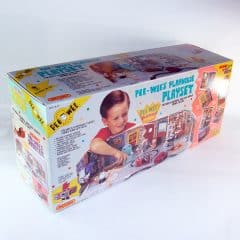 1988 Pee-Wee's Playhouse Set mint in box
Year: 1988
Manufacturer: Matchbox Item 3550
Condition: Mint condition and near mint box
First edition vintage collectable
This is a very rare find and a Paul Reubens masterpiece, a magical blend of toy, art, and just plain fun! This is the set from the late 80's, early 90's TV series "Pee-Wee's Playhouse" on CBS. The vintage playset is printed cardboard sealed inside clear plastic, similar to playsets of the 50's and 60's. The walls fold out and suddenly you're in Pee-Wee's Playhouse!
Big 20" x 28" x 7 1/2" play area. Complete with all parts in perfect condition, including Pee-Wee's scooter with flag, "Floory" the pop-up floor, "Clockey" with hands that turn, "Mr. Window" with a mouth that moves, "Dancing flowers" that can really dance, a working front door, fridge and swinging wall. Also includes platforms, island couch, tv console, kitchen table and bench. Original clear plastic bag holding parts has been discarded, otherwise it's complete.
The Playset comes complete with a GIANT unused 12 1/2" x 26" sticker sheet for decorating the set as well as an original instruction sheet for putting it all together. If you want to play on the go, just snap shut the Playhouse (with real metal snaps), grab the carry handle and your Playhouse is portable!
The packaging is as much a work of art as the playhouse. A giant 12" x 27" x 7 3/4" in size, covered in photos and fun artwork. It is mint condition except for the handwritten code in the upper right corner Toy's R Us wrote on each box(!) on the store shelves in 1988. Photos are of of actual item. Climate controlled storage and minimally handled. Sold as is. Only one available.
$

350.00
Add to cart