1975 Frankenstein Bend 'Em Figure
$150.00
Year: 1975
Manufacturer: Azrak Hamway
Condition: Good condition figure
1st edition vintage collectable
Universal Studios California is the home of the original Universal Monsters, including Dracula, Wolfman, the Mummy, and of course, the original Frankenstein's monster. This 3 1/2" tall bendee is a rare Universal Studios collectable 1975. Unlike most vintage bendees of the era, this Frankenstein is in great shape. He's still flexible and has his original paint job. On the back is the copyright 1974 Universal City Studios Inc. This is a rare vintage item. Very few exist anymore!
Photos are of actual item. Climate controlled storage and minimally handled. Sold as is. Only one available.
1 in stock
Here's some other cool stuff you might like...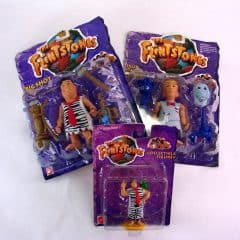 1993 The Flintstones Movie Fred & Barney Figures- Set of 3 in packages
Year: 1993
Manufacturer: Mattel
Condition: Mint condition figurines in package
First edition vintage collectables
This is another Fred and Barney set featuring actors John Goodman and Rick Moranis as Fred and Barney. Fred is now Junior VP at Slate & Co., and dressed in his Big Shot outfit. He comes with a red power tie, Wilstone golf club bag, a golf club and parrot cell-phone. Barney is in his filling station outfit with his work hat, dyno-wrench and octopus squeegee. This set includes a bonus 3" miniature Big Shot Fred.
Like the other set, the packaging looks like chiseled rock. The clear bubble packaging makes it look like the characters are frozen in an ice glacier. Very cooool! Packaging is in great shape and has very minimal corner bending on the bottom corners. Larger packages measure 10 1/2" x 7 1/2" x 2" and the small one is 7" x 5" x 1 1/2".
Photos are of of actual items. Climate controlled storage and minimally handled. Sold as is. Only one set is available.
$

34.00
Add to cart