1974 Young Frankenstein Laser Disc
$49.00
Year: 1974
Manufacturer: 20th Century Fox
Condition: Good condition
First edition vintage collectable
The laser disc was cutting edge 1970's technology. For the first time, an ENTIRE movie fit on a thick metal disc inside a 13" square plastic cartridge. One disc is made from more metal and plastic than a dozen iPhones! The disc was built to last forever. Unfortunately technology changes and if you have a laser disc player, it's getting hard to find movies to play on it.
Now you can own and watch the official LD release of the classic Young Frankenstein movie starring Gene Wilder, Peter Boyle, Marty Feldman, Cloris Leachman, Terri Garr, Kenneth Mars and Madeline Kahn. Filmed in glorious black and white, this homage to horror movies was written and directed by the one and only Mel Brooks, mastermind behind The Producers, Blazing Saddles, High Anxiety, Spaceballs, and many other movies. Probably Gene Wilder's best performance. Rotten Tomatoes gave it a 94. 
Photos are of actual item. Climate controlled storage and minimally handled. Sold as is. Only one available.
1 in stock
Here's some other cool stuff you might like...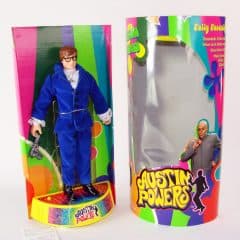 1998 Austin Powers Poseable Talking Figure in Box
Year: 1995
Manufacturer: Trendmasters
Condition: Mint condition in mint package
First edition vintage collectable
Women want him… men want to be him… he's the International Man of Mystery! And now you can have the one and only Austin Powers Talking Action Figure! This figure was released to coincide with the first Austin Powers movie. Austin is looking totally shagadelic in his blue velvet suit, ruffle shirt, horn-rim glasses, male symbol necklace, pistol, and Union Jack underwear! He even has a hairy chest, and oh, those teeth! This is an amazingly detailed figure and fully poseable arms and legs. 9" tall figure standing on a 1" base with a speaker.
Mike Meyers provides the original voice for 4 of his favorite sayings: "Very shagadelic!", "Smashing baby!", "Oh, behave!", "Yeah, baby!" and can be played without removing Austin from his groovy pad. Very rare and very collectable.
Austin's "package" is impressive as well, a full 12 1/2″ tall x 6″ x 3″ and covered in a psychedelic explosion of colors and photos of Austin, Dr. Evil, and one of the Fembots. Mint condition. Photos are of of actual item. Climate controlled storage and minimally handled. Sold as is. Only one available. Yeah baby!
$

96.00
Add to cart