1974 McDonalds Glass Mugs Set of 4
$60.00
Year: 1974
Manufacturer: McDonalds / Anchor Hocking
Condition: Mint condition
First edition vintage collectables
McDonalds has offered a number of collectable mug sets over the years, many of them featuring popular movies of the day. However, this set from 1974 is collectable for the eclectic combination of features. 1) The mugs are molded using smoke black glass. 2) The designs feature kids characters even though mugs were more of an adult item at the time. 3) The characters are each in an action pose of one of four professional sports including the Grimace dunking a basketball, and Captain Crook hitting a baseball with his sword.
The McDonalds logo is embossed backward on the bottom of each mug, so you can see it the correct way when drinking from it! Each heavy duty mug is 4.5″ tall and is 3″ in diameter. The mugs are free of chips and scratches and appear to be unused.
Photos are of actual items. Climate controlled storage and minimally handled. Sold as is. Only one set available.
1 in stock
Here's some other cool stuff you might like...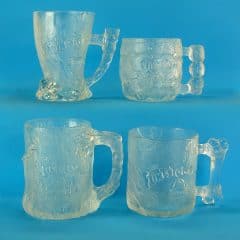 1993 McDonalds Flintstones Mugs Set of 4 in mint condition
Year: 1994
Manufacturer: McDonalds / Flintstones
Conditon: Mint condition
First edition vintage collectable
Set of 4 mugs
McDonalds has done countless promotions over the years. One of the most memorable is a set of four Flintstones Glass Drinking Mugs which coincided with the release of the 1994 live action movie verion of "The Flintstones", starring John Goodman. McDonalds promoted the movie by offering a set of four mugs, each one with a with wildly original design.
Ranging in height from 3 1/4" to 4 1/2" inches tall, each mug had amazing details such as embedded fossils, bone-shaped handles, and the Flintstones logo. These are especially collectable because McDonalds allowed their own logo to be altered for the movie; a prehsistoric "RocDonalds" golden arches logo is carved into the side of each mug.
The mugs were made in both the USA and France and the country of origin is on the bottom of each mug. They've never been used and are in mint condition with no chips or scratches.The mugs were sold without packaging.
– Treemendous Mug – It's shaped like a tree stump, with bark, leaves and a branch shaped handle.
– Pre-Dawn Mug – Covered in fossils such as fish scales, shells, bird footprints and more. Bone handle tied with leather straps.
– Rocky Road Mug – It's a mug shaped like a pile of stones!
– Mammoth Mug – Probably the most unique and rare of the four mugs. It's shaped like a giant mammoth bone, with a smaller bone handle tied with leather straps.
Photos are of of actual item. Climate controlled storage and minimally handled. Sold as is. Only one set available.
$

67.00
Add to cart