1973 Lone Ranger Tonto Action Figure by Marx
$100.00
Year: 1973
Manufacturer: Marx / Gabriel Industries
Condition: Fair to good condition
First edition vintage collectable
Jay Silverheels was an Indigenous Canadian and son of a Mowhawk Chief when he got the role of Tonto in the Lone Ranger series and eventually got his own action figure in 1973. This Tonto is missing his guns, but stil has holsters, buckskin jacket and leggings with fringe. He also has his original beads, shoes, and he even has his stirrups, ready to ride. Tonto is a little loose in the hips from many hours of fun play.
Photos are of actual items. Climate controlled storage and minimally handled. Sold as is. Only one set available.
1 in stock
Here's some other cool stuff you might like...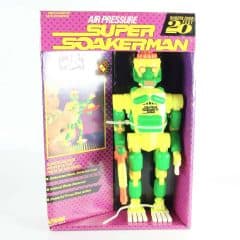 1991 Super Soakerman in box
Year: 1991
Manufacturer: Laramie
Condition: Excellent condition
First edition vintage collectable
Millions of Supersoakers have been sold since 1990. This is a hard to find Soakerman and the first Supersoaker to depart from the traditional gun design. Soakerman's arms and legs are articulated and his head turns. The water is pressurized by pumping Soakerman's head up and down a dozen times or so, and he's ready to go. He's 9 1/2″ tall and extends to 12″ with the head pump up. He's armed with his own classic Supersoaker that shoots a strong solid blast of water by pressing the trigger on his right bicep. See video below.
The box is 12″ x 8″ x 2 1/2″ in very good condition, printed in vivid bright early 90's colors. Soakerman is strapped into the box in his original restraints. We dare you to set him free! Item was removed from original packaging to put in batteries and for photography.
Photos are of actual item. Climate controlled storage and minimally handled. Sold as is. Only one available.
$

99.00
Add to cart