1970's Litho Tin Play Toys Set of 2
$19.00
Year: 1970's
Manufacturer: Unknown
Condition: Good to very good condition
Vintage collectables
A pair of tin play toys, one a wind up and the other a squeeze-style action toy. They are lithographed tin, probably made by the same company. The pair of wrestlers has a "Made in India" sticker on the underside. Squeezing the U shaped piece under the two wrestlers causes them to rock back and forth. It's a simple but clever idea. 5 1/2" tall x 3" wide. The chicken has a key to wind it up. Remove the key, set the chicken on a flat surface and he starts hopping. The chicken is 1 1/2" tall x 2" wide. There's a little paint missing where the two wrestlers rub against each other but they both work great!
Photos are of of actual items. Climate controlled storage and minimally handled. Sold as is. Only one set available.
1 in stock
Here's some other cool stuff you might like...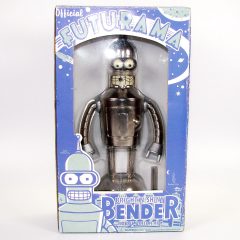 2004 Futurama Bender Robot Action Toy in Box
Year: 2004
Manufacturer: Bandai
Condition: Mint condition figure in very good condition box
1st edition vintage collectable
If you're a Futurama fan, you know Bender's favorite line is "Bite my shiny metal ass!" Well, now you can! This is a real Bender, and he has a real shiny metal ass! "Bright 'N' Shiny Bender" is 8 1/2" tall and made out of metal, made just like a vintage tin robot. Wind him up and he walks. The door on his chest opens to reveal actual working gears inside! Bender comes complete with a Mom's oil can, a cigar for his mouth and a metal wind-up key.
The package is 10 1/2" x 6" x 3 1/4" designed with classic Futurama graphics. A great gift or robot collectible! Warning: Not for Earthlings, Neptunians, or Omicronians under 3 Earth years of age.
Photos are of actual item. Climate controlled storage and minimally handled. Sold as is. Only one available.
$

110.00
Add to cart