1970's Cowboys and Indians Bendees Set of 4
$17.00
Year: 1970's
Manufacturer: Unknown
Condition: Very good condition
First edition vintage collectables
Political correctness hadn't reached the toy industry back in the 1970's, when playing cowboys and indians was still a thing. One cowboy and three indians make up this set of bendees. 5" tall average size.
Photos are of of actual items. Sold as is.
Out of stock
Here's some other cool stuff you might like...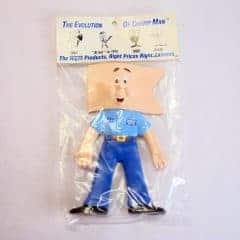 1991 Champion Auto Flag Champ Man Bendee in bag
Year: 1991
Manufacturer: Russ Berrie
Condition: Mint condition
First edition vintage collectable
How's this for a unique item? It's Champion Auto Store's Flag Champ Man, who has a flag for a head! This item is tagged with the vintage Russ Berrie logo (now called Kid Brands). He's a 6 inch tall supersize bendee, dressed in his work uniform and sporting the Champion Auto logo both front and back. We have one Flag Champ man packaged in his original packaging, After the packaged version is sole, subsequent orders will receive the unwrapped version.
Photos are of of actual items. Climate controlled storage and minimally handled. Sold as is.
$

15.00
Add to cart