1970 Talking Crissy Pull String Doll
$57.00
Year: 1970
Manufacturer: Ideal Toy Corporation
Condition: Good condition
First edition vintage collectable
Some girls loved Barbie, but just as popular in the 1970's was the Crissy doll. The Crissy doll was made by Ideal Toy Corporation from 1969 to 1974. She was wildly popular because of her unique ability to "grow hair" with a push of a button on her tummy, and shorten it with a twist of a knob located on her back. Crissy was designed to be much larger than Barbie, too, at 18" tall. This Crissy is wering her original green flower dress. This model was made in 1970. The date on her head is 1969, which is the date on all Crissy heads from 1969 to 1972.
This Crissy does not come with her wardrobe. See our other Crissy doll if you want the wardrobe.
Crissy says 12 phrases randomly when her string is pulled. The voice works but is not perfect. See the video below to hear the voice.
"Hi, I'm Crissy!"
"Let's have a party."
"Brush my hair please."
"Please dry my hair."
"Make my hair short."
"Make my hair long."
"My hair grows."
"I love you".
"I've got a secret."
"I like to dress up."
"Set my hair please".
"Velvet talks too."
Photos are of of actual item. Climate controlled storage and minimally handled. Sold as is. Only one available.
1 in stock
Here's some other cool stuff you might like...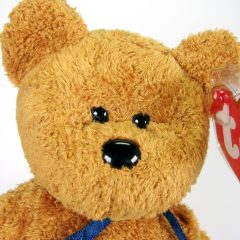 1999 TY Beanie Babies "Fuzz"
Year: 1999
Manufacturer: Ty
Condition: Near mint condition
First edition vintage collectable
Look closely at this handsome bear
His texture is really quite rare.
With golden highlights in his hair
He has class, style and flair!
Fuzz is an adorable Beanie from 1999. Fuzz measures 9″ tall, 6″ seated and is complete with a dark blue ribbon around his neck. He has black eyes and a black nose. Fuzz was released on 1st January 1999. His birthday is on 23 of July 1998. He retired on 23rd December 1999. Fuzz has his original Ty tags. The tushy tag does not have a factory number on the inside of the loop. See photos for details on tag errors.
Photos are of actual item. Purchased at auction of a retail gift store owner's private collection of rarities, never offered at retail. Climate controlled storage and minimally handled. Sold as is. Only a few available.
$

19.00
Add to cart