1969 Hot Wheels Red Line Twin Mill Car
$48.00
Year: 1969
Manufacturer: Mattel
Condition: Pretty good condition
First Edition Vintage collectable
This is a first year red line Twin Mill Hot Wheels car. Not a replica, but straight from the bright orange Hot Wheels streets of 1969. Rare metalflak black with red flames. The wheels are still true and it rolls great. Very little wear with two slight chips on the tip of the nose. The flame decals are clean and crisp. 2 7/8″ long.
Photos are of actual item. Climate controlled storage and minimally handled. Sold as is. Only one available.
1 in stock
Here's some other cool stuff you might like...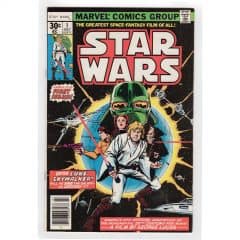 1977 STAR WARS Marvel Comics #1-10
Year: 1977 and 1978
Manufacturer: Marvel
Condition: Very good to near mint condition
1st edition vintage collectables

AUTHENTIC ORIGINAL SERIES PUBLISHED IN 1977 AND 1978
First edition vintage collectables – Not reproductions

In 1977, the very first Star Wars comics were released. The ones you see here were purchased from the local drug store in my tiny southeastern Minnesota hometown. We knew which day comics were delivered, so we were able to get the very first issues. I collected the first 10 issues. I read them once, and they went into collector sleeves, into my closet and into the past. I opened them up recently and scanned the covers. You can see they're in near mint condition. No tears, scratches or other damage.  The corners are all clean and unworn and have been stored in plastic pouches. Fantastic shape for comics printed 40 years ago.
#1-6 illustrate the Star Wars original story faithfully from beginning to end. These are the original issues as they were printed in 1977 by Marvel- not reprints. I only have one of each and they're gone.
BONUS: Buy issues 1-6, and receive issues #7-10 FREE! Issues #7-10 do not follow the storyline of the sequals / prequels, but are an interesting spin-off of the STAR WARS franchise.
$

3,500.00
Add to cart