1960's Tonka Road Grader No. 975
$130.00
Year: Late 1960's
Manufacturer: Tonka
Condition: Good condition
First edition vintage collectable
Made tough to last, Tonka toys This Road Grader measures an amazing 17″ long! It was built entirely in Minnesota at the old Tonka plant. The paint is original- not repainted. It has some rust on the blade and some other surface wear indicating it was played with and enjoyed. It also has the vintage Tonka tires with the older Tonka logo.
Photos are of actual item. Climate controlled storage and minimally handled. Sold as is. Only one available.
1 in stock
Here's some other cool stuff you might like...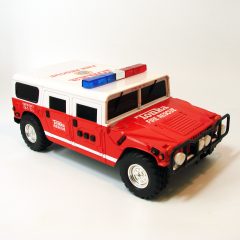 2000 Tonka Rescue 88 Fire Rescue Hummer with Lights and Sound Action
Year: 2000
Manufacturer: Tonka / Hasbro / Funrise
Condition: Very good condition
First edition vintage collectable
The Hummer is another quality truck in the Rescue 88 Emergency Vehicles series. Like the other models, the Fire Rescue Hummer has lots of bells and whistles! 3 buttons on the side door activate a combination of voice, sirens and horns, loud and clear as the day it was made. The Hummer has a rooftop flashing light bar and flashing headlights. Everything works great! See video below. We'll even include 2 AA batteries so it's ready for action!
The body of the truck is made of high grade molded plastic that almost feels like metal, with no discoloring after two decades. Red and white in color with chrome and black accents, based on the original Hummer design acquired by General Motors. Markings on all sides include the famous Tonka logo. This item has been gently played with, but is in great condition for it's age.
The Hummer Fire Rescue 88 measures 13 1/2″ long, 6″ wide, 5 1/2″ tall. Production markings on the bottom: Funrise 1999, Tonka and Hasbro 2000.
Photos are of of actual item. Climate controlled storage and minimally handled. Sold as is. Only 1 available.
$

149.00
Add to cart