1960's Japanese Ford Highway Patrol Litho Tin Car
$53.00
Year: Early 1960's
Manufacturer: Taiyo World Toy Company
Condition: Fair
First edition vintage collectable
This is a rare vintage battery powered early 1960's Ford Highway Patrol police tin toy car, made by the Taiyo World Toy Company of Japan. The Taiyo logo is litho'd inside the back window. There are many variations and this one originally had a driving mechanism underneath but it is missing and the battery compartment has partially rusted. The bumpers show a little rust but the majority of the body paint is still intact. A lot of style and class in an oversized vintage tin toy. 12 1/2" long overall. No box.
Photos are of of actual item. Climate controlled storage. Sold as is. Only one available.
1 in stock
Here's some other cool stuff you might like...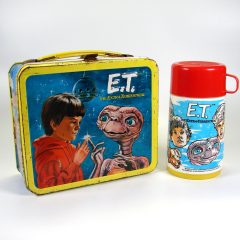 1982 E.T. the Extra-Terrestrial Metal Lunch Box with Thermos
Year: 1982
Manufacturer: Aladdin
Condition: Fair condition
First edition vintage collectable
E.T. was a groundbreaking film, and this metal lunch box complete with Thermos features major scenes from the movie, including young stars Henry Thomas, Drew Barrymore, and of course E.T., the alien left behind on Earth in the early 80's.
The lunch box is well used and even has the name of the original owner in his own handwriting on the top outside edge AND under the lid too. Jason did NOT want to lose this lunch box. Lots of character!
The lunch box is made of pressed and rolled metal, 7″ x 8″ x 3 3/4″ deep with a yellow plastic handle and clasp. The front and back of the box are embossed, too. The inside is white. There are dents and scratches from daily wear. The thermos is 6 3/4″ tall x 3 1/2″ in diameter and has more graphic drawings of the movie.
Photos are of actual item. Climate controlled storage and minimally handled. Sold as is. Only one available.
$

120.00
Add to cart