1960's 14 1/2" Snoopy Stuffed Plush
$77.00
Year: 1960's
Manufacturer: Unknown
Condition: Very good condition
First edition vintage collectables
It's a late 1960's Snoopy stuffed plush. Stuffed animals were often the grand prize item in games of chance by traveling carnivals of the day. Everyone remembers seeing this stuffed Snoopy (or trying in vain to win one) but very few survived the last half century, probably because of the "giveaway" nature of this rare Snoopy. This Snoopy was won at a traveling carnival in Minnesota in the 1960's. The plush material is still nice and soft and the slight off color white helps lend to it's authenticity as a vintage collectable a half century old.
Photos are of of actual item. Climate controlled storage and minimally handled. Sold as is. Only one available.
1 in stock
Here's some other cool stuff you might like...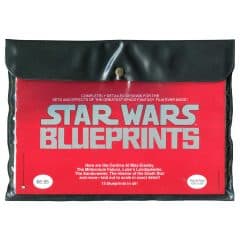 1977 STAR WARS Blueprint Portfolio Set
Year: 1977
Manufacturer: 20th Century Fox
Condition: Excellent condition
1st edition vintage collectable
AUTHENTIC ORIGINAL PRINTING FROM 1977
First edition vintage collectable
The STAR WARS BLUEPRINTS PORTFOLIO is a unique set of detailed design drawings for the sets and effects of the original movie, including the Cantina at Mos Eiseley, The Millenium Falcon, Luke's Landspeeder, The Sandcrawler, The interior of the Dealth Star and more, laid out in exact scale and detail. Any one of them would look cool framed.
15 blueprints printed on heavy paper, all stored in the origiinal black and clear plastic portfolio they came in. The blueprints are in mint condition; the portfolio case is a little wrinkled but the snap and seams are all intact and in very good shape. Each blueprint is  13 1/8″ x 19″ size. Portfolio size is 7 1/2″ x 10″.  Printed by Ballentine Books. Only one available.
$

110.00
Add to cart