1954 Famous Artists Schools Artist's Course 4 Book Set
$279.00
Set of 4 Famous Artists Course
Each Book is 14×12.
4 Ring binders are each engraved with the name of the student "Joy Gould"
Famous Artists School is an art correspondence course institution, in operation since 1948. The school was founded by members of the New York Society of Illustrators, principally Albert Dorne and Norman Rockwell.
The original course offered in 1948 was Illustration & Design, with Painting and Cartooning added in the 1950s. The Painting and Illustration & Design courses, consisted of 24 lessons, with a new lesson mailed to the student upon completion of the previous lesson. When a student completed and returned the assignment, it was critiqued by a professional artist who sent suggestions to the student.
Out of stock
Here's some other cool stuff you might like...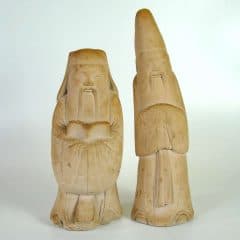 1975 Oriental Standing Monks Statues
Year: 1975
Manufacturer: Austin Productions Hand carved
Condition: Very good condition
First Edition Vintage collectable
Austin Productions started in the 1950's in Brooklyn, NY specializing in museum reproductions. They went on to create a wide variety of original sculptures, many of which are becoming very collectable. These vintage Oriental Standing Monks Statues are designed to go together as a set, and the taller monk appears to be reading over the shoulder of the other monk (or perhaps he's asleep?) The statues are 7 1/4" and 9" tall and dated 1975. They have a slightly stained patina, which is natural and part of the Durastone finish.
Photos are of actual item. Climate controlled storage and minimally handled. Sold as is. Only one set available.
$

200.00
Add to cart