1954 Famous Artists Schools Artist's Course 4 Book Set
$279.00
Set of 4 Famous Artists Course
Each Book is 14×12.
4 Ring binders are each engraved with the name of the student "Joy Gould"
Famous Artists School is an art correspondence course institution, in operation since 1948. The school was founded by members of the New York Society of Illustrators, principally Albert Dorne and Norman Rockwell.
The original course offered in 1948 was Illustration & Design, with Painting and Cartooning added in the 1950s. The Painting and Illustration & Design courses, consisted of 24 lessons, with a new lesson mailed to the student upon completion of the previous lesson. When a student completed and returned the assignment, it was critiqued by a professional artist who sent suggestions to the student.
Out of stock
Here's some other cool stuff you might like...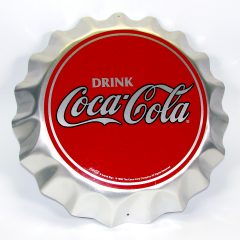 1999 Coca Cola Bottle Cap 11″ Tin Wall Sign
Year: 1999
Manufacturer: Unknown
Condition: Excellent condition
First edition vintage collectable
This is an 11″ di. stamped tin sign in the shape of a classic Coca-Cola bottle cap. Unlike a flat sign, the crimped tin sign is appx. 1 1/2″ deep and looks just like an oversized bottlecap. It's big and fun, and would look great displayed on a wall. The artwork features the Coca-Cola logo and is in excellent condition with a couple very minor scratches by the copyright. This Coca-Cola item is already over a generation old, and bound to become more collectable as time goes on.
Photos are of actual item. Climate controlled storage and minimally handled. Sold as is. Only one available.
$

41.00
Add to cart