1930's Disney Mickey Mouse Party Favors (Coners)
$90.00
Year: 1930's
Manufacturer: Aberfoyle
Condition: Fair condition
First Edition Vintage collectables
Here's a blast from the past! These are classic party favors with authentic vintage 1930's pie-eye Mickey and Minnie Mouse artwork. Each coner is 6 3/4" tall and made of thick cardboard with wooden tips, along with a reed inside that vibrates when blown (one does not work but the other two do). The artwork features . A label inside each cone says SPY by Aberfoyle Coner. Copyright on the side is printed "Walt E. Disney Licensee Marks Bros. Co. Boston Mass" One of the three coners is slightly stained. The other two let out a razzing Bronx cheer sound. Very rare!
Photos are of actual items. Climate controlled storage and minimally handled. Sold as is. Only three available.
1 in stock
Here's some other cool stuff you might like...
ON SALE NOW!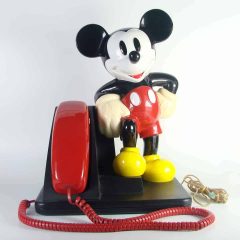 1989 Vintage Disney Mickey Mouse AT&T Phone
Year: 1989
Manufacturer: AT&T Item CS2881D109
Condition: Near mint condition
First Edition Vintage collectable
It's the first-ever phone with a built-in mouse! It's the one and only Classic Mickey Mouse Phone by AT&T. It comes from an era when phones were big and solid and didn't need to be updated regularly. Mickey stands a full 14 1/2″ tall and the base measures 10 1/2″ x 14 1/2″ and it will stand out in any room.
This is an early "Made in China" item from AT&T, when only a few items came from China and quality control still mattered. The sculpting and paint job is well done, and all parts have vintage AT&T quality fit and finish. It is in excellent shape compared to most similar Mickey Mouse phones from that era. Both Mickey and the handset are clean and shiny and look unused. The numbers light up on the handset. The handset has a normal / loud switch, and can be switched from dial to touchtone, so it works perfect on any land line. The cord and wall cord are both original and also look new, and the label area to write phone numbers is original and untouched.
Mickey has been plugged in and tested. The sound is loud and clear, and works great. It has that classic, reliable Bell sound. It's a well made vintage conversation piece and will stand out in any room.
Photos are of of actual item. Climate controlled storage and minimally handled. Sold as is. Only one available.
$

120.00
Add to cart